ÀÌ ´ÞÀÇ Ã¼Çè´ã
¾Æ·¡´Â ÁöÄÚÀÏ ½Å¹ßÀ» ½ÅÀº °í°´ÀÌ Á÷Á¢ ¿Ã¸° üÇè´ãÀÔ´Ï´Ù.
Now displaying Results 21 - 25 of 41.
I work in retailing 10 hours a day, 5 days a week, and walk on tile-covered cement floors. I bought Z-CoiL Santa Fe dress shoes, and from the first day, my foot, hip and back pain were gone. It's now been 18 months and my Z-CoiL shoes allow me to work pain-free. Much younger co-workers can't keep up with me. The leather on my dress shoe has separated from the sole near the arch; I'm hoping my local dealer can make repairs and get me back on them soon.
Michael
Canton, MI

I stumbled on Z-CoiL shoes about a year ago and out of curiosity tried a pair on. I was immediately impressed with the way I felt. I'm an avid walker so I decided to purchase a pair. I finally found a shoe that takes the pressure off my back, helped the pain I was having in my hip and relieved the pain in my feet from walking in regular running shoes on asphalt surfaces. I had back surgery and neck surgery, so Z-CoiL shoes keep me moving. Thank you, Z-CoiL, for a pain-free life.
Kathy
Beltsville, MD

I have suffered from plantar fasciitis for seven years. There have been times when the only way to get from the bed to the bathroom in the morning was to crawl on my knees.

Last year, I received a cortisone shot in my right heel and felt complete relief, but alas, its effects only lasted a month. I had become more and more sedentary and have really been gaining weight over the last three years because of this issue. I had really started to get depressed because things seemed so hopeless.

I saw a new store open up next to my video store. They were advertising foot pain relief shoes. Then there was an article in the paper about the shoes this store was selling. This piqued my curiosity, so I went in. When I put them on, I was near tears and could hardly talk. The relief was instant.

The foot pain, almost entirely gone, and the hip pain I had developed recently from walking so oddly to accommodate the foot pain was completely gone! I was literally making a whole different set of plans for our summer vacation sitting in the store--one that actually involves walking and doing something, instead of sitting poolside!!

That night, I took my kids to a carnival and walked around for hours. The next morning there was no flare up from the extra walking that normally would occur.

I cannot tell you what it means to be given hope again that something can be done to relieve pain that was so crippling. Thank you so much. I see more Z-CoiL shoes in my future: a dressy pair, a hiking pair, etc., as I regain my life and all its different activities!!!!
Amy
Zeeland, MI

I had experienced hip and leg pain for more than a year and finally after two different courses of physical therapy and three different physicians, it was determined that I required back surgery. On January 11, 2007 I had a procedure called a hemi-laminectomy, which was successful but left me with lingering hip and leg pain.

My mother suggested trying a pair of Z-CoiL shoes, as she has owned a pair for quite some time and they have relieved her back pain. My thought was, ¡°What do I have to lose other than the pain?¡± I purchased a pair to see if it would give me any relief. The pain that I usually experienced at the end of a normal day as an active Insurance Agent was not there!

I must admit that I was a bit skeptical that a shoe with the appearance that Z-CoiL footwear has could actually work, but it surely does. I have since purchased two pairs in the month of March at the Zeeland, Michigan, store and the owners provided me with service beyond my expectations.

I haven¡¯t owned my Z-CoiL shoes long enough to have first-hand experience with the long-term benefits, but I do know first-hand that they took my pain away almost immediately. I was looking for pain relief and this product delivered. If you stand all day or have health issues as I did, I would HIGHLY recommend the purchase of Z-CoiL Pain Relief Footwear.
Kevin
Leipsic, OH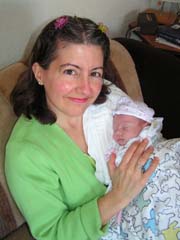 I was born with scoliosis (curvature of the spine), but never felt it until I hit my 40's. At age 43, I developed constant left heel pain and hip pain that was occasional, but made me miserable when I had it. I tried all kinds of expensive shoes plus different types of exercise. Nothing helped. I started to limp and felt embarrassed when people stared at me. Then I bought my Z-CoiL sandals. They felt much better than other shoes, but they didn't have enough arch support. I took them back to the store, where they were adjusted to perfection. Goodbye pain.

Now I have the clogs and athletic shoes, which are wonderful. I also have the Mary Janes. They are not as comfortable, but presentable for special occasions. My next purchase will be the hiking shoes, if they are wide enough. What I have found is that you can't insist on a style of Z-CoiL because you like how it looks. You have to try different styles on and get the one that feels the best. Different styles come in different widths. My feet are slightly wide, so I can wear the above-named shoes, but maybe not all Z-CoiL shoes are right for me.

I would like to thank the man who invented the Z-CoiL, and all others who helped to bring them to fruition. You have given me my life back.
Suzane
Santa Rosa, CA USA